CHEER CHAMPION OF THE WEEK: JENNIFER TURNSPLENTY!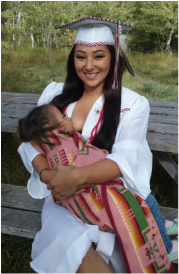 Jennifer is a student at Blackfeet Community College in Browning, Montana and an enrolled member of the Crow Tribe. She recently attended an AI/AN CHAMPS Breastfeeding Clinical Skills course held at Blackfeet Community College, and she is a photo model for CHAMPS's reframing breastfeeding education work in the American Indian/Alaska Native community.
Jennifer shares: "I attended [the CHAMPS breastfeeding] training because for a long time, I felt I was the only one who felt that breastfeeding was much more important than it seemed to be around Browning. Especially in the Native community. I enjoy breastfeeding and love to share my experience and thoughts with others."
Jennifer has one daughter, Camrynn Bear Medicine, whom she successfully breastfed for 2 years and 7 months! Jennifer graduated from Browning High School / Blackfeet Learning Academy last year, where she balanced being a student and nursing mom. Browning High School / Blackfeet Learning Academy does not have a formal policy to protect lactating students, but plans are underway. Nevertheless, Jennifer says she felt "totally safe" as a nursing mother at school. She sometimes breastfed her daughter in class, though she feels sure nobody noticed. Other times, she would step out momentarily to breastfeed in a private room. "I think a formal policy to protect nursing mothers at school/work is necessary, a great idea! Some people don't understand breastfeeding, I believe a policy will help with that," says Jennifer.
Jennifer is pursuing studies to become a coroner. She enjoys swimming and has been learning how to hunt for the first time this year. She also loves breastfeeding: "It's been one of the most amazing journeys of my life, breastfeeding my daughter. It taught me a lot, things like commitment and perseverance…My favorite part of breastfeeding was the bond I was able to share with my daughter, I'll never forget this experience."