CHEER CHAMPION OF THE WEEK: JENNIFER BRIGGS!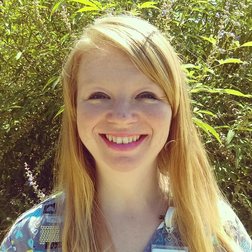 Jennifer Briggs, CLC is a Breastfeeding Peer Counselor III for the Mississippi Department of Health WIC program District IV. She is on the Baby-Friendly community advisory board at CHAMPS hospital Baptist Memorial Hospital-Golden Triangle in Columbus, MS, where she recently participated in a CHAMPS site visit. Her input at that site visit was stellar!
Jennifer has worked for the MS Department of Health for 2.5 years. She provides breastfeeding support and education to pregnant and nursing mothers, teaches classes, provides latch assessments, shares information about normal newborn behavior, and refers complicated breastfeeding issues to a local IBCLC. At Baptist Memorial Hospital-Golden Triangle, she attends monthly advisory board meetings where she helps to educate hospital staff and medical providers on the importance of breastfeeding. She also is a La Leche League leader in Columbus and the Publicist for the North Mississippi Breastfeeding Coalition.
Supervisor Jennifer Clark, BS, IBCLC shares these words about Jennifer Briggs: "Jennifer is a joy to have on staff with our program, and graciously uses her publicist/English major skills to create flyers, newsletters, and signs when needed. She shows initiative and is a team player within our district and the county Health Departments where she works, and really seeks to understand and reach out to the community she serves."
What are Jennifer's favorite parts about her job? In her words: "I love helping mothers breastfeed their babies! Not only does breastfeeding provide the baby with perfect nutrition, it also gives the mother such confidence in her ability to care for her child. She may hesitate or have self-doubt, but after a few weeks of practice, she learns to trust her instincts and abilities. Watching this transition from eager but unsure to confident is definitely my favorite part of the job! I enjoy continuing education, too. I believe it is important to stay current on the information we share with mothers."
Jennifer's passion for breastfeeding began when she was pregnant with her 6-year-old daughter. She now has 3 children and loves the bond she shares with each of them as a result of the time they spent breastfeeding.