CHEER CHAMPION OF THE WEEK: IRENE PAPHITI!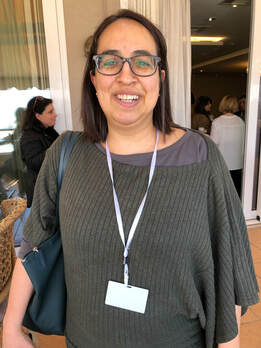 Irene Paphiti, MD, IBCLC is President of the Cyprus Breastfeeding Association, "Gift for Life," of which she was a founding member in 2009. In this role, she represents the Association on the Cyprus Breastfeeding National Committee.
Irene has been a pediatrician in private practice for 14 years, and uses her position to advocate for breastfeeding mothers.
"I work to empower women to breastfeed, and to try to get better prenatal education to prepare them," she says. "My goal is to change the culture in Cyprus, and to establish Baby-Friendly hospitals in Cyprus."
Irene's "signature" presentation, which she recently gave at the 12th Annual National Galaxias Conference in Athens, is titled "Empowering or Diminishing the New Mother: The Health Professional's Superpower," in which she discusses positive versus negative language that clinicians can use to support breastfeeding women.
Irene says that the most enjoyable aspects of her work are: "I make a lot of friends, and we are all working together as a team to increase breastfeeding rates. It is good to know you help many women who have now succeeded with breastfeeding, and sometimes these are people you don't even know!"
​
CHAMPS will be working together with Irene and her team going forward to help support the Baby-Friendly work in Cyprus as needed. Congratulations Irene on your great work – go breastfeeding Cyprus and Gift for Life!