CHEER CHAMPION OF THE WEEK: IRENE MCLENDON!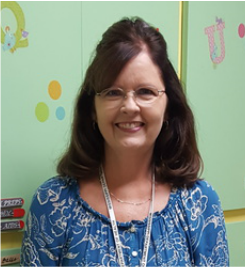 Irene McLendon, B.S. Ed, CLC, is the District 8 WIC Breastfeeding Coordinator for the Mississippi Department of Health. She is doing a great job supporting her staff as WIC Breastfeeding Coordinator and offered invaluable input at a recent CHAMPS site visit at Merit Health Wesley in Hattiesburg, MS!
Irene has worked for the MS WIC District 8 Breastfeeding program for 2 years and 3 months. During that time, she and her team have increased the breastfeeding rates within District 8, which includes 9 counties. Irene reports that in June 2014, there were 8.32% breastfed infants (newborn-12 months old) and 2.71% exclusively breastfed infants in District 8. In June 2016, these rates were 18.09% breastfed infants and 6.26% exclusively breastfed infants. This is an increase of 9.77% breastfed infants and 3.55% exclusively breastfed infants in a 2-year period!
Irene shares: "I attribute the increase in rates to prayer, a dedicated breastfeeding staff and the support of the district nutritionists, nurses and office staff, and getting our clients and their support people "hooked" on the idea of breastfeeding in their very first prenatal visit to their local health department. How do we do that? By asking our clients what their thoughts are on breastfeeding (we assure the clients there are no right or wrong answers), by discussing and addressing breastfeeding barriers, by advising our clients on the breastfeeding benefits for both mother and baby, and by making an individualized breastfeeding plan for our clients who choose to breastfeed. We also let our clients and their support people know what they can expect at our local hospitals, the La Leche League, and from WIC in terms of breastfeeding resources and support. We do all this in the first visit. Why? Because I have learned that the sooner the breastfeeding barriers are addressed (usually "heard it hurts", "I have to return to work") the sooner the client opens her mind to the possibility that she can breastfeed. When it comes to breastfeeding, knowledge truly is power."
As WIC Breastfeeding Coordinator, Irene supervises the activities of all breastfeeding staff within her district and collaborates with community breastfeeding stakeholders. She and her team work with several hospitals in their district, including CHAMPS hospitals Merit Health Wesley and the University of MS Medical Center. They provide their contact information to the hospitals; help facilitate the Baby-Friendly pathway; loan breast pumps to patients with a medical need for one; and inform WIC clients that they are welcome to call them from the hospital if they need breastfeeding support. They also collaborate and promote breastfeeding among community groups such as La Leche League, Head Start, Fetal Infant Mortality Review, MS Action for Progress, the Southeast Rural Health Initiative and local high schools.
Congratulations, Irene! You are a true CHAMPion!