CHEER CHAMPION OF THE WEEK: HOUSTON WIC PROGRAM PROJECT #26!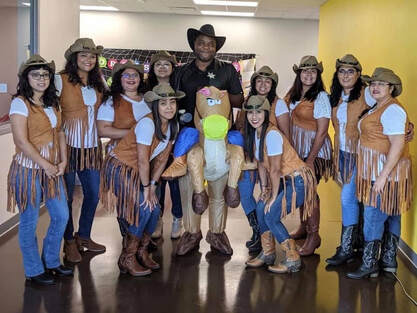 This week's CHEER Champion is the Houston Health Department Women, Infants and Children (WIC) Program! This department consists of 165 members who provide supplemental foods, nutrition education and breastfeeding support to women, infants and children up to the age of five. They were nominated for their creative use of videos to promote and improve breastfeeding education.
"Our team aims to capture the attention of viewers and raise the interest of the public to normalize breastfeeding.  We do this by creating song parodies of top hit songs that people commonly know." –Zahra Koopaei, WIC Bureau Chief for Project 26, Houston Texas
The WIC Program Project 26 serves the at-risk Houston community by issuing WIC foods, providing nutrition education, breastfeeding support through peer Counselors, breast pumps and access to a navigator, who connects clients with community resources. Their services are evidence-based and premised on research findings that families who participate in WIC have:
Longer and safer pregnancies
Fewer premature births and infant deaths
Improved dietary outcomes for infants and children
Improved maternal health outcomes
Improved performance at school
Significant savings in healthcare costs when compared to non-participants.
WIC Project 26 has created covers of popular songs to emphasize the importance of breastfeeding and present breastfeeding education in a creative, innovative, and fun manner. They are famous for their stage productions and videos such as "Pump it Up", and their latest music video, "Latch my Baby", a cover of Lil Nas X's – Old Town Road featuring Billy Ray Cyrus. When asked what they enjoy most about making these videos, they shared that they really enjoy the reaction they get from the public, in addition to brainstorming and working through the creative process.
During this COVID-19 pandemic, the Houston WIC team have come up with creative ways to serve the community while adhering to social distancing and the correct use of PPE. The breastfeeding support team are assisting moms through Zoom video conference and mailing out breast pumps. They remain committed to providing the much needed support services to their community.
Congratulations to the Houston Health Department WIC, thank you for making breastfeeding education so much fun!