CHEER CHAMPION OF THE WEEK: EMILY DOTSON!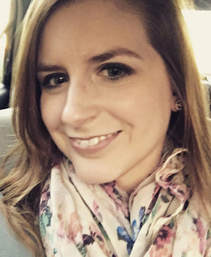 Emily Dotson, B.A., Administrative Assistant with Executive Staff Support for Blue Cross & Blue Shield of Mississippi (BCBSMS), provides assistance to the Medical Director and the Director of Prescription Drug Management. She recently did an excellent job planning and coordinating the Mississippi CHAMPS Team Meeting and Conference held on September 27 and 28, 2017 on the BCBSMS Campus in Flowood, MS, with the help of the CHAMPS team, especially Rebecca Snow Hartnett!
"Knowing that I'm truly helping someone is what drives me to continue to work hard," shares Emily, who hopes to enjoy many years at BCBSMS. "What I like most about my job is that it's something new and different every day!"
BCBSMS is a valuable partner to CHAMPS and a pioneer in its support of the Baby-Friendly Hospital Initiative (BFHI) across the state. Under the leadership of Medical Director Dr. Sarah Broom and with Emily's assistance, BCBSMS, along with CHAMPS, is promoting Baby-Friendly designation to all BCBSMS Network Hospitals that deliver babies in Mississippi. They have also hosted several conferences geared toward empowering hospital staff to achieve Baby-Friendly designation, and are supporting the BFHI as a member of the Advisory Board of the Mississippi Perinatal Quality Collaborative. Blue Cross & Blue Shield Association's Blue Distinction® Center+ of Excellence for Maternity Care designation, based on national quality criteria and BCBSMS's Maternity Quality Model, is granted to facilities meeting top quality, evidence-based criteria such as elimination of elective deliveries before 39 weeks and achievement of Baby-Friendly designation.
The September 28th Mississippi CHAMPS Conference for newly enrolled CHAMPS hospitals was one of several conferences that BCBSMS has graciously hosted for us. Thanks to Emily's efforts, it was well attended, well organized, and enjoyable, with a delicious lunch and snacks generously provided by BCBSMS. Now several more Mississippi hospitals are signed up with CHAMPS and ready to start their Baby-Friendly journeys!
Emily enjoys spending time with her husband of 4 years, Jeff, and their cat, Gigi. In her free time, she loves to read, play piano, draw, and play video games. She and her husband also enjoy participating in many activities at their church.
​
Thank you, Emily and BCBSMS! CHAMPS greatly appreciates you!