CHEER CHAMPION OF THE WEEK: ELIZABETH DAWSON!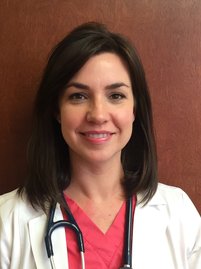 Elizabeth "Betsy" Dawson, FNP-C, is Nurse Practitioner and CHAMPS Team Lead at CHAMPS hospital South Sunflower County Hospital (SSCH) in Indianola, Mississippi. Betsy has been doing a fantastic job leading the Baby-Friendly taskforce at SSCH. They began their Baby-Friendly journey in fall of 2015 and are almost ready to enter the Designation phase!
Betsy describes being CHAMPS Team Lead as "a great experience along with lots of challenges." She says the most challenging part has been "introducing change among the hospital staff, although our staff has been great at adjusting." On the other hand, the most exciting change has been being able to help those mothers who want to breastfeed but, in the past, have not received the support or education to do so.
Betsy works at Indianola Family Medical Group, a department within SSCH. At the family practice clinic, OB patients are provided with information regarding a Baby-Friendly hospital, breastfeeding benefits, skin-to-skin, rooming-in, and other topics. Betsy is available for any questions mothers may have. Betsy shares, "Prior to [beginning our Baby-Friendly journey], we were not providing the needed education regarding breastfeeding and [its] benefits. So starting the Baby-Friendly journey has been a great thing for our clinic and patients!"
When asked what advice she has for other hospitals seeking to become Baby-Friendly, Betsy says, "It is definitely a journey so be prepared, but it's a worthwhile one!! Ask questions and for help!!!"
Congratulations, Betsy! We are excited to be on the Baby-Friendly journey with you!