CHEER CHAMPION OF THE WEEK: ELISE!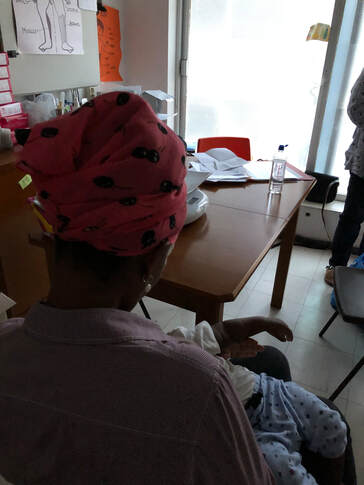 This week's Champion of the week is a special young woman living in Athens, Greece. "Elise" (her name has been changed to protect her confidentiality) is a refugee living in an Athens shelter, with her husband and baby. The family sought refuge in Greece to escape the ongoing war in their African homeland. Elise has exclusively breastfed except for a short period when she had to take a certain medication, and at that time, she timed feedings around her medication, to fit in the maximum number of breastfeeds possible.
​Not only is Elise dedicated to breastfeeding, but her willingness to share and help her fellow residents at the shelter has dramatically impacted her peers. Right now, 83% of all African women at the shelter are exclusively breastfeeding (compared to 40% among women from other regions of the world), in large part because Elise has been able to help them in their native language from the moment their babies were born.
CHEERing, CHEER's sister organization in Greece which focuses on the current humanitarian refugee crisis, visits the shelter weekly to weigh and measure all the babies, and offer additional nutrition support. All the mothers tell us that they are breastfeeding because it is healthiest for their babies, and because Elise has helped and encouraged them. CHEERing applauds Elise for her commitment to breastfeeding and to helping other women in the shelter. This is a shining example of the effectiveness of peer-based breastfeeding support.
Thanks to a grant from Help Refugees, CHEERing now has some funds to work one on one with Elise to offer her additional training, support and strategies to promote breastfeeding in her community going forward.
Congratulations Elise!