CHEER CHAMPION OF THE WEEK: DR. JACK MAYPOLE!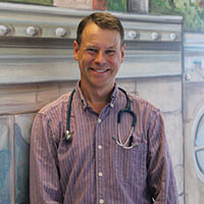 We are honored to recognize Dr. John (Jack) Maypole, MD as our CHEER Champion of the Week. Dr. Maypole is the Vice Chair of the Pediatrics Department, and Director of Comprehensive Care Program at Boston Medical Center (BMC) and Associate Clinical Professor of Pediatrics at Boston University School of Medicine. In addition to being a physician, Dr. Maypole is a widely published educator and writer on pediatric issues and a prolific cartoonist. He was nominated for his wonderful pediatric work and his efforts to uplift the department staff during the Coronavirus pandemic using cheerful communications and especially his pandemic inspired cartoons, aptly renamed "Cortoons."
Dr. Maypole has been cartooning forever. Growing up, his mom had a small business sketching and selling greeting cards and soon he followed suit, occasionally selling cartoons on the side while studying at Yale and gifting sketches to family and friends. He constantly uses his art in his pediatric practice at BMC, where he creates cartoons to soothe and amuse young patients for whom the doctor's office can be daunting. Blending humor with communication can diffuse tension around fraught issues or difficulty moments, and he has found using cartoons and a lighthearted touch to be an effective way to connect with others.
"The rendering and doing of cartoons is therapeutic and a way to process my own tension about things. I also use them to make social statements or try to call people's attention towards various issues and problems that arise in everyday life"- Dr. Jack Maypole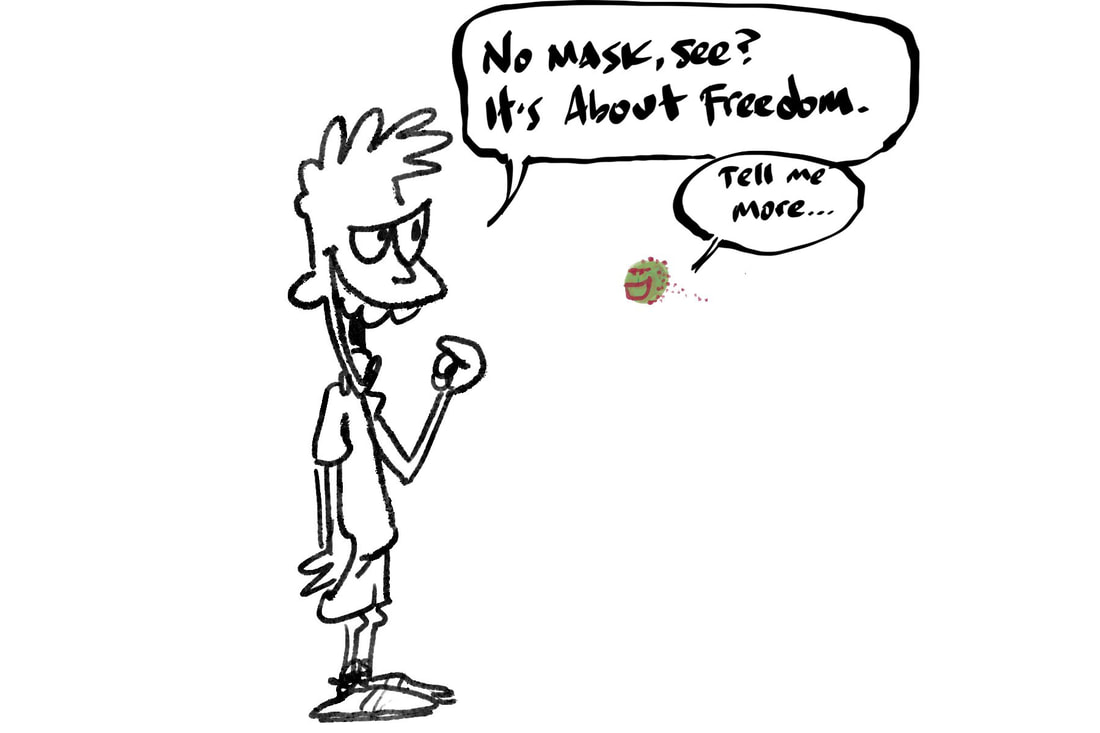 When asked about his creative process, Dr. Maypole stated that he generally likes to sit with his brain "out of gear" and just let the ideas flow, until he finds an idea "with a kind of music to it" to build on. "Cartooning involves making a lot of bad work before you get better. You have to read your audience and find what appeals to them," he notes, "while walking that fine line between funny-yet-provocative and offensive." He describes his craft as a tool that has to be used with nuance and thoughtfulness, which could mean sometimes turning situations upside down to find the humor that lurks within.
Dr. Maypole studied history in college and then went on to become a high school teacher. He soon realized that he enjoyed the kids more than the content and pursued a career in pediatrics. He currently directs a nationally recognized multi-disciplinary program for children with complex and chronic illness, the Comprehensive Care program. Prior to this, he worked at the South End Community Health Center for 7 years as a community pediatrician, a role he takes a lot of pride in. He is passionate about childcare, patient education and communication, and improving outcomes and support for children with special needs.
Dr. Maypole finds a lot of joy in his work. "I am motivated by the joy and unbridled energy that kids have…Watching kids and families overcome illness and watching the kids grow up is a humbling and joyful process." He also enjoys running, spending quality time with his family, and embarking on new traveling adventures with them.
Congratulations Dr. Maypole! Thank you for using your wonderful humor and talent to brighten our days.
Follow Dr. Maypole's work on Twitter (https://twitter.com/drmaypole) and Instagram (https://www.instagram.com/drmaypole/)