CHEER CHAMPION OF THE WEEK: DEIDRA AND MILES WESLEY!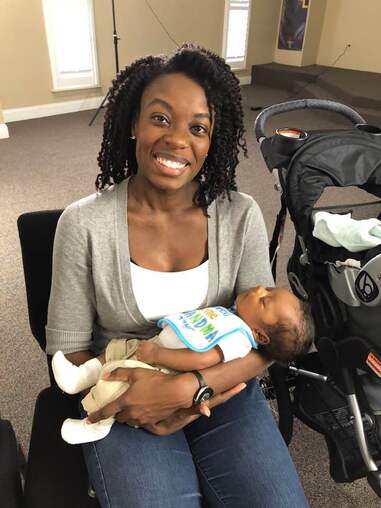 Our CHEER Champions of the Week are Deidra Wesley (MA), and her baby, Miles. Deidra and Miles were nominated for their excellent work on the IPE filming which took place earlier this year in Jackson, Mississippi. Deidra is a producer, fitness model, and actress who played the role of a new mom along with her 4 week-old star, Miles, who executed a perfect crawl to the breast.
"Shooting the IPE was a great experience. The cast, crew and client were all so nice; they really took care of me and my baby boy Miles! As a first time mom, I was a little nervous about traveling and working with my newborn, but we were in great hands," Deidra shared.
In addition to being a producer for Warner Media, Deidra has done fitness modeling for Nike, Gatorade, AT&T, and other brands. When she saw the online casting announcement for the IPE, Deidra submitted her headshot, a self-taped audition, and a photo of Miles after he was born. They were both casted for the project and then drove down to Mississippi from Georgia for the shoot. She really enjoyed the experience, "everything worked out so well. I'm so proud of Miles; he was great on set and handled the long drive like a champ!" she said.
Deidra auditioned for the IPE because she wanted to help spread the word about how great breastfeeding is. "I always knew breastfeeding was a good thing, but becoming a mom gave me a new appreciation for how important it is," she shared. Her son, Miles, is exclusively breastfed and nursed on demand.
When asked what motivates her work, Deidra expressed that she is motivated by storytelling and a love for sports. As a producer, she enjoys the thrill of putting a live show on the air. "You never know what might happen!" she said. As a fitness model, she loves traveling for work and using her athleticism to represent some of her favorite brands.
​Deidra is an alumna of the University of North Texas, where she had a track and field scholarship, and earned her Bachelor's degree in television production. She also earned a Masters degree in Journalism from the Mayborn Graduate Institute of Journalism. In addition, Deidra is a certified track and field, and gymnastics coach who has worked with students from ages 6 weeks to 30 years.
Deidra really loves to travel. She visits a new country every year for her birthday and is looking forward to getting Miles a passport, so they can travel together after COVID. Miles on the other hand, has a very healthy appetite and loves nursing with his mom.
​
CHEER Director, Dr. Anne Merewood and CHAMPS Physician Lead, Dr. Lori Feldman-Winter, are launching the completed Interprofessional Education (IPE) Modules with UMMC Faculty this week. We are thankful to Deidra and Miles for their talent and execution of the IPE scenes!