CHEER CHAMPION OF THE WEEK: DEE HUERTA!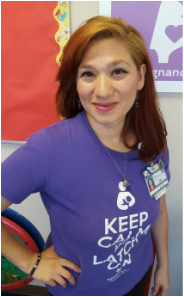 Deanna Denise ("Dee") Huerta, IBCLC, Certification of Nutrition, WCS, is the Breastfeeding Coordinator at Christus Health WIC in San Antonio, Texas. She has worked for Texas WIC for 9 years and for Christus Health WIC for 4. Christus Health WIC has 3 clinics in San Antonio, including one across the street from CHAMPS hospital, Christus Children's Hospital of San Antonio. Dee's dream for the breastfeeding peer counseling program at Children's Hospital is a model of collaborative care between hospital and community!
Christus Health WIC has 1 full-time and 3 part-time employees, and they are in the process of adding another full-time position. At their Children's Hospital location, Dee and her team educate WIC enrolled and eligible families prenatally and support them post-discharge individually and in breastfeeding support groups. Currently, they are seeing patients at the WIC clinic across the street from the hospital. Hospital staff often refer families to the WIC clinic, where they may see Dee and her peer counselors on a drop-in basis without needing to make an appointment. WIC also staffs a 24-hour breastfeeding warm-line.
Dee's dream for this program is to begin seeing patients within Children's Hospital, so that WIC can partner with hospital staff more fully, screen patients for WIC eligibility, and support patients during their postpartum stays in-hospital. This would strengthen the relationship between hospital and community breastfeeding support, create a seamless referral system post-discharge, and increase the hospital's capacity to provide infant feeding and support. Another of Dee's goals over the next few years is to help Children's Hospital become Baby-Friendly. They are currently in the Development phase of the 4-D pathway. Christus Health WIC maintains an average of 95% breastfeeding initiation rates between their 3 clinics; their Lackland Air Force Base clinic's breastfeeding initiation rate is 100% most months.
In addition to supporting moms, Christus Health WIC has initiated San Antonio's first ever "Peer Dad" program. This program educates fathers and the mother's support system on what to expect during the breastfeeding process and how the family can support the mother in her breastfeeding journey.
In her spare time, Dee serves as Social Media Chair and is the incoming 2017 President for the San Antonio Breastfeeding Coalition. She also teaches free breastfeeding classes as part of the "The Lact Pack" hosted by Brian the Birth Guy, a local dude-la (doula). She is a member of USLCA and ILCA and was involved with San Antonio's Baby Café program as their IBCLC for almost 2 years.
What does Dee love most about supporting breastfeeding moms? "The warm fuzzy feeling you get when a client searches you out on social media to friend you because you have left such an impression." What personally motivates her to advocate for breastfeeding? "Knowing I am able to positively impact someone's life."
Congratulations, Dee, we wish you the best! ​
​
Note: This post has been transferred from CHAMPSbreastfeed.org.  There were originally 2 comments.  You can view it in this document.