CHEER CHAMPION OF THE WEEK: DALVERY BLACKWELL!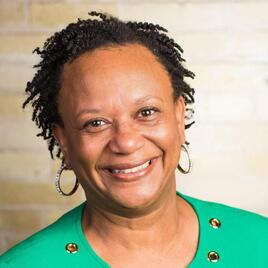 This week's CHEER Champion of the Week is Dalvery Blackwell, BA, IBCLC, Executive Director and Co-Founder of African American Breastfeeding Network, Inc. (AABN). She was nominated by Erica Morrell, PhD, for being a "dedicated and passionate community leader who meets families where they are at, to transform neighborhoods from within."
Founded in 2008, AABN has been impacting families in the Milwaukee, Wisconsin area for over a decade. Their vision is to "live in a world where breastfeeding is the norm within the African American community" (http://aabnetwork.org/about). They are working to make this vision a reality through their various services, including their signature Community Breastfeeding Gatherings (CBG), which educate families on the benefits of breastfeeding. They also offer breastfeeding support from Dalvery, who is an IBCLC, or their Community Breastfeeding Peer Counselors; hospital and home visits; father support; online breastfeeding support; and bereavement support at their new "Healing Waters" gatherings for families who have experienced pregnancy/birth loss.
"Very few community-led, African American-led organizations last beyond two years," says Dalvery. "I am proud that AABN is a viable resource with eminent community-will with key stakeholders and leaders."
AABN has been recognized in local, state and national media and reports, most notably Essence Magazine's April 2015 article, "Ten Things People Are Talking About," a January 2015 news report in Associated Press, the 2014 CDC Breastfeeding Report Card, and the 2014 Black Child Development Institute-Milwaukee report, "Being Black is Not a Risk Factor: Statistics and Strengths-Based Solutions."
This year, AABN received a grant from the Wisconsin Partnership Program for its Community Doula Initiative, a project to help enhance community capacity and strengthen the community of doulas in Milwaukee County. This summer, they will also collect 60 surveys through their WE RISE (Water and Environmental Research for Infants' Safe Eating) initiative, to address the impact of lead in water for families of childbearing age.
"I immensely enjoy working with women and their families," Dalvery shares. "The positive and immediate result that new moms experience while breastfeeding feeds my soul and provides the daily reassurance I need that African American women love their families and children, and only want the best for them. Working with first-time moms is the most rewarding personally for me. I feel blessed to be able to do this work. Breastfeeding our babies in my immediate family is normal; my 3 nieces breastfed exclusively for over 12 months!"
Dalvery believes breastfeeding awareness, initiation, and support among African Americans is higher than it was 10 years ago. However, African Americans still lag far beyond other ethnic groups when it comes to exclusivity and duration, she says. Her vision is for this to change, to see more women of color become IBCLCs, and to see other systemic changes within the health system.
"African Americans need to continue leading the movement that calls out and addresses systemic and institutionalized racism and inequalities in US health care. With a stronger, wider reach/movement we can change workplace policies, hospital practices and legislation to improve infant maternal health outcomes. No first-time mom living in America should birth without a community-based doula; all health insurances, including Medicaid, should cover doula costs," Dalvery comments.
AABN is a partner of the Milwaukee African American Perinatal Health Collaborative, a new initiative addressing infant mortality. In 2017, Dalvery received the Woman of Commitment Award from the Wisconsin Alliance for Women Health, and she is a recipient of the Milwaukee Community Journal 2018 Year of the Child: A Game Changer Honoree.
Congratulations, Dalvery! CHAMPS applauds your work and wishes you the best!