CHEER CHAMPION OF THE WEEK: CINDY GREENE!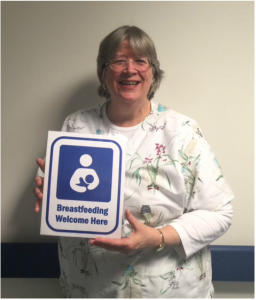 Cindy Greene, RN is Nurse Manager, CHAMPS Team Lead, and Chair of the Baby-Friendly Steering Committee at SEARHC, Mt. Edgecumbe Hospital in Sitka, Alaska. She is doing a great job leading her team in their Baby-Friendly journey!
Mt. Edgecumbe is a tribal hospital serving mostly Tlingit tribal members as well as the general population, and delivering 2-3 babies each month. Mt. Edgecumbe is currently in the Development phase of the 4D pathway, and the staff and administration are highly motivated to become Baby-Friendly. Cindy shares that both nurses and physicians "are embracing this concept [of Baby-Friendly] and integrating the ten steps into birthing plans and nursing policies." They are also in the process of integrating a new computer system, which will ensure that Baby-Friendly practices are properly documented. "My committee members are an awesome group," Cindy says, "We are working together to build a strong breastfeeding culture."
Cindy's dreams for breastfeeding at Mt. Edgecumbe and in Sitka "are that we have enough community support to assist breastfeeding mothers [and] that these mothers know they can rely on current information and positive feedback from our staff as we work towards achieving Baby-Friendly status…I would love to see this hospital and community foster a strong culture of support for all our breastfeeding mothers!"
Wonderful work, Cindy and team! We are excited to be on this journey with you!