CHEER CHAMPION OF THE WEEK: CHRISTOPHER CHONG!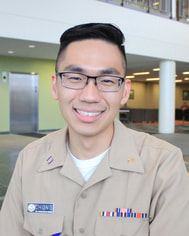 Christopher ("Chris") Chong, Pharm.D., is a clinical integrated pharmacist at Southcentral Foundation (SCF)'s Benteh Nuutah Valley Native Primary Care Center (VNPCC) in Wasilla, Alaska. SCF jointly operates the VNPCC and the Alaska Native Medical Center in Anchorage, which is a designated CHAMPS hospital. He was nominated as CHAMPion of the Week for his expansive work as a pharmacist, and for creating a valuable resource for breastfeeding women and the professionals who serve them, titled: "Over-the-Counter (OTC) Cough and Cold Medications for Breastfeeding Women." The resource distinguishes safe and unsafe medications, provides dosage recommendations, and includes a list of current references.
Chris shares about the resource he created: "The document was created in response to several nurse case managers who verbalized that they would like to have a document that listed common OTC medications that were safe to use in breastfeeding. I thought this was a great opportunity to assist the nurse case managers as well as a great learning opportunity for myself…I hope that this resource will be utilized by providers and nurse case managers when consulting with patients (referred to as customer-owners at SCF) who are breastfeeding, and [that it will] provide evidence-based guidance to what is safe for use. Also, I hope breastfeeding mothers are reassured and comforted through the information provided through this document." Unfortunately, Chris' resource is not publicly available, but an excellent general resource for medications and breastfeeding is LactMed.
As a clinical pharmacist at SCF, Chris is part of a primary care clinic's integrated care team, which includes primary care providers, nurse case managers, certified medical assistants, a dietician, nurse midwifes, and administrative support. Together, they serve American Indian/Alaska Native People in the Matanuska-Susitna Borough. Chris answers drug information consults from integrated care team members and customer-owners, manages anticoagulation therapies, assists integrated care team members with diabetes and asthma management, and acts as a liaison between the main dispensing pharmacy and primary care clinics.
"I believe that pharmacists are one of the most versatile professions in healthcare, and our role has certainly evolved and expanded beyond dispensing to providing direct patient care," Chris says. "I view my role…to be an active part in a customer-owner's journey in achieving wellness as well as [to] provide support for the integrated care teams. I believe that the journey to achieving wellness is built by creating and maintaining healthy relationships, and I hope that I am able to provide the best care and support to the customer-owners and integrated care teams at Southcentral Foundation through those relationships."
Chris recently received the United States Public Health Service Achievement Medal for "outstanding work in advancing quality improvement and asthma education initiatives at Southcentral Foundation" and also received the National Alliance of State Pharmacy Association Excellence in Innovation Award, which "recognizes qualified pharmacists who have improved patient care and/or advanced the pharmacy profession by making significant innovations in their practice, methods, or services" for the asthma initiative during his pharmacy residency at SCF. He has been part of the Ryan White HIV/AIDS Part C Capacity Development grant, and is currently a part of the VNPCC pharmacy process improvement workgroup.
Note: This post has been transferred from CHAMPSbreastfeed.org.  There was originally 1 comment.  You can view it in this document.