CHEER CHAMPION OF THE WEEK: CHRISTINE POWELL!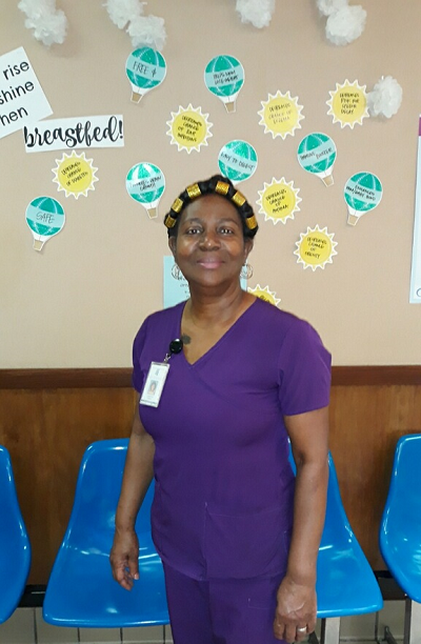 This week's CHEER Champion is Christine Powell, AA, CLC, and Peer Counselor at the Mississippi State Department of Health (MSDH), where she has worked on and off, since 1996, for a total of 11 years. She was nominated for her long-standing service to mothers in Greenwood, MS and her contributions during the last CHAMPS site visit to Greenwood Leflore Hospital.
"Breastfeeding is the natural thing to do for a baby, the benefits are immense to both mothers and babies," Christine says. As a mother of 7 with 18 grandkids, she has experienced firsthand results of breastfeeding and she believes that "it takes a village and moms need that support". In her role as Peer Counselor, Christine provides education and lactation support through breastfeeding classes, clinics, home and hospital visits for breastfeeding mothers. She facilitates monthly classes at Greenwood Leflore Hospital and was present at their most recent site visit, during which she gave excellent input and insight on the role of WIC in supporting mothers after discharge.
Christine was very excited about the CHAMPS visit to GLH, she enjoyed seeing the support that CHAMPS provides to them as they navigate the Baby Friendly pathway. She is happy about the changes the hospital is making and believes it has been a long time coming. She says the recently launched lactation room is a "wonderful and very much needed change for staff and patients who are breastfeeding."
When asked what motivates her to do breastfeeding work, Christine described the historical issues that have resulted in misconceptions around breastfeeding in MS. "People have stopped breastfeeding for so long that what was once a natural and easy process has become quite difficult" she says. "When I first started out, I didn't know how much work it would take to support moms in breastfeeding because it was no longer the norm." Christine aims to help mothers to bridge the knowledge gap and fulfill their goal of nursing their babies!
When she was not being a Peer Counselor, Christine worked in a correctional facility where she continued educating the men on how to support their partners in breastfeeding. "It was big to be able to do that with the male population" she says. Christine also provides lactation support and education to church members on breastfeeding.
Congratulations Christine, thank you for your many years of service!