CHEER CHAMPION OF THE WEEK: CHARLENE RAMIREZ!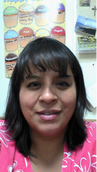 Charlene Ramirez, ADN, enrolled member of the Blackfeet Tribe, is our latest CHAMPion of the week. The CHAMPS initiative now includes our recently funded American Indian/Alaska Native CHAMPS project, and Charlene is our first AI/AN CHAMPion. Charlene was born in Great Falls, MT, and currently resides in Browning, MT. She is the obstetric supervisor and Baby Friendly Coordinator at the Blackfeet Community Hospital, and she led and supervised the staff training component of her hospital's Baby-Friendly Initiative. The Blackfeet Community Hospital became Baby-Friendly in November 2014. In the future, Charlene wants to pursue her Bachelors of Nursing degree, and she hopes to help her community by "ensuring the safety of our next generation by promoting a healthy lifestyle and abstinence from drugs and alcohol".
Charlene loves going to Pow-wow's, spending time with her thirteen-year-old daughter, and going camping. She particularly loves taking pictures of the beautiful scenery their surroundings have to offer. Charlene would one day love to travel to China because "their culture is very fascinating, and they have such beautiful landscape".
Being part of the CHAMPS team has allowed Charlene to learn "new ideas regarding breastfeeding and how to incorporate it in my practice". Since working with CHAMPS, Charlene feels as if her biggest accomplishment is that she has been able to assist other hospitals in their quest to become Baby-Friendly. With the assistance of CHAMPS, Charlene hopes that she will be able to help nearby hospitals ,to which her high-risk patients are often referred, become Baby-Friendly, so that "they can bond with their babies as they would have at our facility".
Note: This post has been transferred from CHAMPSbreastfeed.org.  There was originally 1 comment.  You can view it in this document.