CHEER CHAMPION OF THE WEEK: CHARLENE H. COLLIER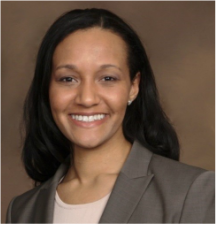 Charlene H.Collier MD, MPH, MHS, FACOG is originally from New Jersey, but lives in Mississippi with her husband Gerald and new baby Jordan. She was an undergraduate, and medical school, at Brown University and received a MPH from the Harvard School of Public Health. She trained in Obstetrics and Gynecology at Yale New Haven Hospital and then completed the Robert Wood Johnson Foundation Clinical Scholars Program at Yale. Currently she serves as the Perinatal Health Consultant for the Mississippi State Department of Health where she direct initiatives and conduct epidemiological research in maternal and infant health. She is also the Director of the Mississippi Perinatal Quality Collaborative (MSPQC) which launched in 2014 to bring evidence based quality improvement projects to improve birth outcomes in Mississippi. In addition to her many roles she is also a practicing OB/Gyn at the University of Mississippi Medical Center.
As Director of the Mississippi MSPQC, Charlene brings her knowledge to CHAMPS to support improved breastfeeding practices in Mississippi. MSPQC hosted their first annual meeting in November 2014 and invited CHAMPS to present to representatives from over 30 birthing hospitals in the state. MSPQC is currently working to help more hospitals support breastfeeding and work towards Baby-Friendly status.
"Our biggest accomplishment was organizing all of the stakeholders and interested partners together to collectively pool our resources, talents and energy to increase breastfeeding in Mississippi at the November meeting. We can do so much more together than individually, so it is exciting to see connections and collaborations being formed across the state."
The thing she enjoys most about being involved with CHAMPS? "It is great collaborating with experienced partners who bring passion, expertise and much needed resources to our state to increase breastfeeding"
As CHAMPS grows, Charlene hopes to see more hospitals in Mississippi adopt the core practices that lead to increased breastfeeding including routine skin-to-skin, rooming in and providing expert support through certified lactation consultants. She also believes Mississippi will have some hospitals Baby-Friendly designated.
As a new mother, Charlene, enjoys hanging out with her 12 week old baby Jordan. She is a proud breastfeeding mother, who fully understands the importance of supporting and educating mothers to successfully breastfeed. "Breastfeeding was tough at the start and the help I received from my doctor, lactation consultant, hospital nurses and other mothers was extremely important. I look forward to helping more mothers to breastfeed in Mississippi.
Congratulations Dr. Charlene for being our CHAMPion of the Week and on the addition of baby Jordan to your family. Because of your work CHAMPS is changing lives and perceptions of breastfeeding in Mississippi.