CHEER CHAMPION OF THE WEEK: CHAMPS DELTA HILLS BABY CAFÉ™!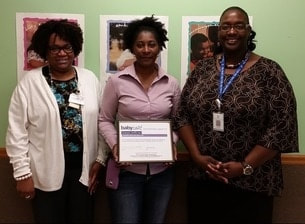 CHAMPS is excited to honor another of our incredible Baby Cafés, the CHAMPS Delta Hills Baby Café™, a trusted resource for mothers and families in Greenville, Mississippi!
"[The CHAMPS Delta Hills Baby Café] is known as the place to get free help with breastfeeding by moms in our community," says Maggie Allen, IBCLC, who works as a Lactation Consultant at the Baby Café and for the Washington Department WIC office at the Mississippi Department of Health.
Maggie adds that the Baby Café, which opened nearly a year ago on April 27, 2016, has steadily gained recognition. Community agencies and local delivery doctors now regularly recommended the Café to mothers, and flyers for the Café are found in doctors' offices and every delivery room at nearby hospital, Delta Regional Medical Center. Mothers are also spreading the word about the Baby Café to friends and family who are pregnant or breastfeeding.
5 or 6 mothers attend the Café weekly, which is held on Wednesdays from 11 am – 2 pm at the Greenville Health Department. Family members, including the baby's grandmother, grandfather, father, aunt or siblings often attend as well.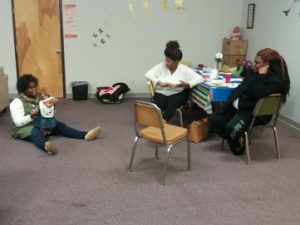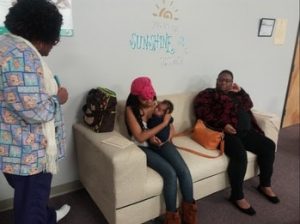 One of the biggest impacts the Café is having is increasing the breastfeeding confidence and knowledge of mothers and their families. "We love to hear that mothers share things they have learned in the Café with hospital staff when they go in to deliver that are best maternity practices like skin-to-skin, rooming-in, no artificial nipples, and no formula unless medically indicated," shares Tawanda Logan-Hurt. Tawanda is Director of the Baby Café, the CHAMPS Delta Community & Hospitals Consultant, and District III Breastfeeding Coordinator for the MS State Department of Health.
Family members also benefit from the breastfeeding education that takes place at the Café. One of the greatest universal barriers to successful breastfeeding is lack of support at home by family members. This lack of support often arises from lack of knowledge regarding breastfeeding and its benefits. To invite family members to the Café addresses this major barrier and greatly increases a mother's chances at success.
Maggie expresses this impact beautifully: "When supporters of moms attend the Café they have the opportunity to ask questions and express their concerns about breastfeeding. When their concerns are answered, it brings a feeling of relief for the mom and us. We receive great joy when a mom sees that she can breastfeed successfully and how she can meet her breastfeeding goals. A mom's confidence grows as she takes a stand for breastfeeding and encourages other moms to do so also."
The CHAMPS Delta Hills Baby Café is supported by CHAMPS and the MS State Department of Health WIC Breastfeeding District III. Staff members include Tawanda Logan-Hurt, Maggie Allen, and Jacqueline Lambert, WIC Peer Counselor III.