CHEER CHAMPION OF THE WEEK: CAROLINE CAROTHERS!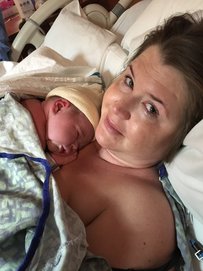 Congratulations to Caroline Cohen Carothers, born on January 20, 2017 at CHAMPS hospital Memorial Hospital in Gulfport, Mississippi! Caroline is the beautiful daughter of Jeremy and Janel Carothers of Pass Christian, MS, and just happens to be the first granddaughter of CHAMPS Mississippi Coordinator, Cathy Carothers, BLA, IBCLC, RLC, FILCA. Many CHAMPS participants will know Cathy as the one who developed the CHAMPS 4-hour competency training curriculum and provides it for hospitals across Mississippi, including Memorial Hospital last February 2016.
Caroline's birth date is especially significant because that was also the day that Memorial Hospital entered the Baby-Friendly pathway! This means that now 100% of Mississippi CHAMPS hospitals are registered with Baby-Friendly and working actively on the designation process. Congratulations!
Cathy reports that Caroline had a wonderful welcome to the world at Memorial Hospital, which began providing skin-to-skin as a standard of care last February 2016 shortly after their training program was completed. Caroline was born after just 3 ½ hours of labor and 5 minutes of pushing! She began skin-to-skin with her mommy immediately while nurses assessed her on her mother's chest. She stayed in skin-to-skin for around 2 hours and nursed on both breasts, and stayed with her mother and dad for 24-hour rooming-in throughout their hospital stay.
The new parents gave a special shout-out to labor and delivery nurse Sissy Ladner, who they described as "amazing!" According to Jeremy, "Sissy was not only a great delivery nurse that she deserves a ton of credit for, but she really stressed skin-to-skin not only for the first hour. She also helped get Caroline latched and encouraged us to continue skin-to-skin and feeding until we knew Caroline was full and we were 100% ready to bring the family in." Lactation consultant Maranda Nybo also checked on the new family while Cathy and the family waited in the family waiting room.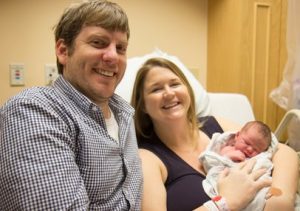 Caroline's daddy was able to hold her skin-to-skin after they got settled in their room. Jeremy and Janel reported that the staff at Memorial Hospital have been "great" and they enjoyed a wonderful hospital experience. Jeremy says the hospital staff also did a great job making him feel welcomed and involved as a dad. He learned how to help Janel with various breastfeeding positions and is an active support for her now that they are home.
"I am SO proud of both Jeremy and Janel," said Cathy. "They are wonderful parents! I'm also very proud of all the wonderful staff at Memorial Hospital. It was a joy to provide their training last year and to see the light go on in the eyes of the nurses. To see them providing such wonderful evidence-based care to my beautiful grandbaby and her mom and dad just made my heart melt."
Congratulations to the Carothers family AND to Memorial Hospital for beginning your Baby-Friendly journey! You are truly CHAMPions!