CHEER CHAMPION OF THE WEEK: CALVIN L. WILLIAMS!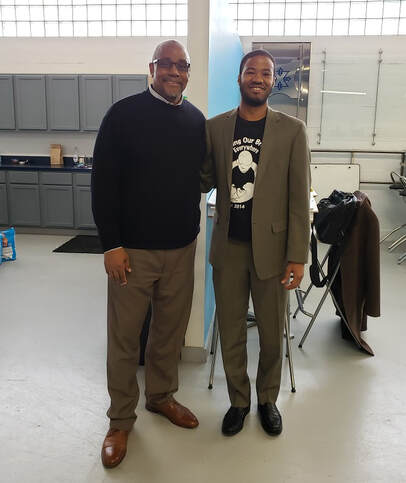 Today's CHEER Champion of the Week is Calvin L. Williams, CLC, and President of Lucian Families. Calvin has worked in the fatherhood field for the past 20 years. 5 years ago, he founded Lucian Families, an organization dedicated to supporting parents and families in achieving healthier and more successful relationships. He was nominated for his long standing commitment to the Fatherhood field and collaboration with Reaching Our Brothers Everywhere (R.O.B.E).
"I am driven by my absolute love and confidence in the people we serve. I believed Lucian families would give me a chance to connect with and serve people in the ways my heart tells me to." – Calvin Williams
Lucian families was birthed from a yearning to engage with people and provide them with the information, resources and support they need. Throughout his career, Calvin has assisted the Oklahoma and Ohio state governments, as well as, various non-profits with designing fatherhood programs. He also co-authored the "On my Shoulders" Curriculum with PREP Inc., Denver Colorado, which focuses on understanding the barriers that men face in fathering and providing possible solutions to those challenges.
Calvin expressed that he is thankful for the connection to Reaching Our Sisters Everywhere (R.O.S.E) as they brought him into the infant mortality and breastfeeding space. "ROSE provided me with the opportunity to serve and provide services to directly improve the lives of Black families," he shared. He is excited to be participating in Reaching Our Brothers Everywhere (R.O.B.E) and contributing from his wealth of knowledge and experience, around fathers and fatherhood, to positively impact African-American breastfeeding rates and infant mortality.
Calvin's work is motivated by his experience as a son and father and the healing process required in mending and nurturing those relationships. "Being a father, it is hard to describe the depth of love I have for my son and the experience fathering him, I believe that all people can achieve that type of experience and beautiful connection that one shares as a father," Calvin stated. He seeks to enable fathers to first and foremost recognize their own gifts and strengths and then activate and utilize those abilities in achieving beautiful fatherhood experiences.
When asked what he enjoys most about his work? Calvin expressed a passion for research and evaluation. He loves researching across fields, synthesizing the information, and creatively translating this into something people can use. He values learning from the people he serves and incorporating their feedback into his programs. "I am excited by seeing people's eyes and minds open to possibilities," he shared.
In addition to these accomplishments, Calvin helped start the Ohio Practitioners Network for Fathers & Families 18 years ago. The organization was founded as a gathering of fatherhood practitioners from all over the state to support people working with fathers. They provide education and training to policy makers and work closely with state agencies to help advance the cause of fathers in Ohio.
Congratulations Calvin, thank you for your commitment to fatherhood and healthy families!