CHEER CHAMPION OF THE WEEK: BOLAJI FAMUYIDE!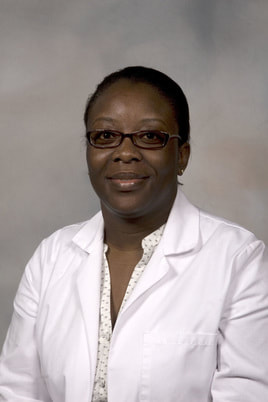 Mobolaji ("Bolaji") Famuyide, MD, MA, MPH, is the physician CHAMPion in Newborn Medicine/Pediatrics at the University of Mississippi Medical Center (UMMC) supporting their journey towards Baby-Friendly designation. She has worked at UMMC since 2008, where she is an Associate Professor and Neonatologist, and the Medical Director of the NICU and Nursery Services. Bolaji is also involved in breastfeeding research and advocacy, and is the co-Medical Director of the Mother's Milk Bank of Mississippi. We are proud to have Bolaji participating in CHAMPS and grateful for her contributions to various CHAMPS webinars.
UMMC is in the last phase (Designation) of the 4-D pathway, in large part because of the tireless efforts of Bolaji and the Mother-Baby Care Team. She has worked with the obstetrics team to establish a Mother Baby Unit to support couplet care and rooming-in. She has also worked to establish the process of skin-to-skin immediately post-delivery. Lastly, there will be a well-baby clinic with lactation support for breastfeeding mothers post-discharge (available early 2016). There has been an increase in breastfeeding initiation rates among all mothers at UMMC and in particular mothers of the inborn extremely preterm infants admitted to their NICU, reports Bolaji.
When asked to share a piece of advice to others seeking to create change within a hospital, Bolaji recommends: "Read and read and embrace Kotter's 8 steps for leading change. A guiding coalition with a shared vision is crucial."
Note: This post has been transferred from CHAMPSbreastfeed.org.  There were originally 6 comments.  You can view them here and here.