CHEER CHAMPION OF THE WEEK: BERTIE BROWN!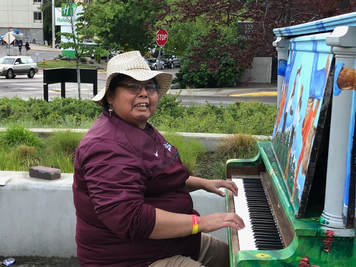 This week's CHEER Champion of the Week is Bertha ("Bertie") Brown (Northern Arapaho/Northern Cheyenne), part-time co-facilitator at the Dragonfly Project and Indigenous Researcher with the CWard Evaluation/Assessment Team. In the past, Bertie also worked for CHEER as the Onsite Consultant for the Northern Cheyenne Community Health Assessment (CHA). Bertie was nominated for the incredible work she is doing to promote healing and wellness on the Northern Cheyenne Nation and for her valuable contributions to the Northern Cheyenne CHA.
The Northern Cheyenne CHA, coordinated by CHEER alongside the Northern Cheyenne Nation, is a comprehensive summary of health priorities, data, and resources in the Northern Cheyenne Nation. It was completed in August of 2018, and is available by contacting the office of the Northern Cheyenne Tribal Board of Health. Bertie's main role with the Northern Cheyenne CHA was to assess and invite leaders from relevant community organizations and programs to participate in the CHA.
The Dragonfly Project is a Generation-Indigenous (Gen-I) Methamphetamine/Suicide Prevention Initiative (MSPI) funded by the Indian Health Service (IHS) at the Northern Cheyenne Nation. CHEER provides technical assistance for every MSPI program in the Billings Area alongside IHS under a contract with the Rocky Mountain Tribal Epidemiology Center. Gen-I programs differ from other MSPI programs in that they are focused on youth.
"This is a twist," Bertie unassumingly begins with a chuckle. "How we work at the Dragonfly Project is that we are going back to the original, traditional method of relating to our community members by making that human connection."
Bertie goes on to eloquently explain that while other programs might use a more westernized approach of set office hours, she and co-facilitator Janelle Timber-Jones "meet people where they're at" by modeling their approach after their ancestors who would visit at all times at relatives' homes. Bertie and Janelle try to revive that "human connection" by visiting community members in their homes, calling them on the phone, or talking to them in the post office or store.
"It still works," Bertie says. "People are happy that you pay them a visit. They are happy to hear from you face to face."
With that human connection as their foundation, Bertie and Janelle meet with people individually; talk to groups; provide coping skills; and collaborate with different organizations on the Reservation. For example, they regularly speak with groups at 15-day recovery programs about addiction, coping skills for grief, and other topics. Many community members also view them as a suicide intervention program, and Bertie and Janelle triage those calls.
Bertie is currently completing the Historical Trauma Master Course through the Freedom Lodge in Rapid City, South Dakota. The course looks at the historical traumas experienced by Native Americans through genocide, the boarding school era, and physical/mental/emotional abuses, specifically sexual abuse.
"Our ancestors were forced to attend boarding schools and this is where the inter-generational traumas were passed down," explains Bertie, who has learned two methods to heal their trauma. One methods is "somatic archeology," the practice of "excavating memories in the body so that our bodies can heal themselves," says Bertie.
Once Bertie completes the course, she will be able to go on to complete a train-the-trainer to train others in historical trauma healing.
"Working with grief is my favorite area if there is such a thing," Bertie says with an ironic laugh that signals resiliency. "It's my favorite trauma to work with as I, myself, have been hit with numerous family losses at various ages. Helping people to recover from grief is a strength I have; it is very comfortable for me to help others in that way. I still love it, I'm still a student."
Congratulations, Bertie, and best wishes with your important and inspiring work!