CHEER CHAMPION OF THE WEEK: BARBARA PRATT!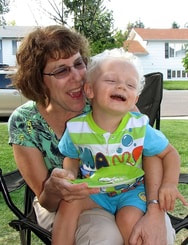 Barbara ("Barb") Pratt, RN, BSN, IBCLC is a member of the New Mexico Breastfeeding Task Force, the Navajo Nation Breastfeeding Coalition, the South Dakota Breastfeeding Task Force, and the United States Lactation Consultant Association. She recently returned to South Dakota from New Mexico where she worked at Gallup Indian Medical Center (GIMC) for 2.5 years as their first IBCLC. During her time in NM, Barb was instrumental in helping GIMC achieve Baby-Friendly designation, advancing lactation practices, and collaborating on breastfeeding initiatives across Navajo Nation!
Barb arrived at GIMC and took on the role of Baby Friendly Co-Lead alongside Holly Rainier, RN, Nurse Educator for Women's Health and Pediatrics. GIMC had created a position for a Lactation Consultant (Barb) to assist with the training of staff, work with providers to improve breastfeeding success, and provide direct patient care for their mother/baby couplets during the hospital stay and at follow-up. Barb's role also included keeping statistics and communicating with her administrative team about Baby Friendly. Barb did a great job at increasing support for the BFHI across departments and working on/gathering meaningful, chronic disease data, such as tracking the feeding choice and breastfeeding success of mothers with diabetes mellitus. GIMC was designated in November 2014!
Barb shares: "My FAVORITE part about working with breastfeeding in New Mexico has to be the people I met there. We are transforming a culture that had lost the art of breastfeeding. Physicians…changed their approach and are now very invested in helping moms succeed…one of our Navajo nurses became an IBCLC last year…we saw breastfeeding rates improve dramatically, and celebrated with mothers who achieved long-term breastfeeding. It continues to be a very successful initiative!"
Anne Merewood, PhD, MPH, IBCLC, Director of CHAMPS says: "Barb saw GIMC through the designation process and was just a real rock and excellent lactation person. She worked on policy and really made it happen."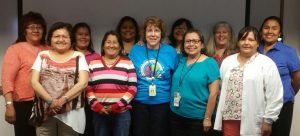 While in New Mexico, Barb joined the Navajo Nation Breastfeeding Coalition (NNBC) and became a key committee team member of the Navajo Area Breastfeeding Task Force. She was part of a small group, led by Amanda Singer, CLC that brainstormed the idea of NNBC's breastfeeding Community Conversations, and she coordinated the session that was held in Gallup.
Barb has returned to South Dakota to be closer to her grandson (in the picture) and his new little brother, due in August. She plans to continue to promote breastfeeding and help moms who are struggling.
Note: This post has been transferred from CHAMPSbreastfeed.org.  There were originally 3 comments.  You can view it in this document.