CHEER CHAMPION OF THE WEEK: APEXA PATEL!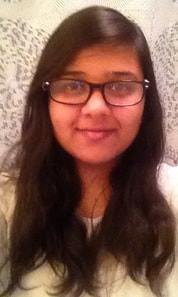 Apexa Patel, BA, CHAMPS Project Coordinator, was nominated as CHAMPion of the Week for her exceptional work coordinating the two recent CHAMPS conferences! These two conferences were the CHAMPS New Orleans Learning Summit on 10/20-10/21 in New Orleans, LA and the CHAMPS Mississippi Learning Summit on 11/12/15 in Jackson, MS. They focused on implementing the Ten Steps to Successful Breastfeeding and practices to enhance breastfeeding rates and maternity care practices in hospitals. Apexa says, "The conferences were a great opportunity to see how much the CHAMPS hospitals have accomplished over such a short period of time." In addition to organizing conferences for CHAMPS, which involves coordinating with speakers, attendees and hotels, creating flyers, and settling finances, etc., Apexa also created and manages our website [CHAMPSbreastfeed.org].
CHAMPS is housed at Boston Medical Center's Breastfeeding Center, where Apexa began as a student intern in Fall 2013 while pursuing her undergraduate degree in Psychology from Boston University. As a student intern, Apexa was known for her sharp mind and outstanding work ethic, so when she graduated in Summer 2015 we hired her full-time. Apexa is currently enrolled in a part-time clinical social work program at Boston College and plans to continue onto medical school to eventually work as a pediatrician and clinical social worker. In all her spare time, Apexa also works for a qualitative research study at Boston's Veteran's Affair Hospital and volunteers at Boston Children's Hospital and Boston Youth Sanctuary.
Note: This post has been transferred from CHAMPSbreastfeed.org.  There were originally 2 comments.  You can view them in this document.