CHEER CHAMPION OF THE WEEK: ANGELA FERGUSON-PARKER!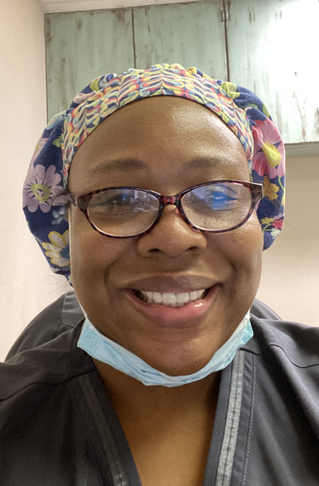 ​Our CHEER Champion of the Week is Angela Ferguson-Parker, Certified Lactation Counselor for Southwest Mississippi Regional Medical Center (SMRMC). Angela has worked on the Labor Delivery and Postpartum (LDRP) unit for 12 years. In her role as CLC, she provides clinical breastfeeding counseling management and support to families who are thinking about breastfeeding, or who need information and support during the course of lactation. She was nominated for being an incredible and unparalleled breastfeeding advocate in her hospital and community.
Angela has been instrumental to the Baby-Friendly Initiative at her hospital. Being the lactation team lead, she provides Baby-Friendly and breastfeeding staff education, daily patient follow up, prenatal and postpartum breastfeeding education, breastfeeding support and assistance before and after discharge, and collects monthly data for her unit and CHAMPS. During the COVID-19 pandemic, she continues to encourage families to support breastfeeding and further inspires mothers to strive for their breastfeeding goals and enjoy the process.
"I am motivated by new families bonding and breastfeeding for the first time, and by the enthusiasm displayed by my nurse manager and Labor and Delivery nurses when they have encouraged a mom to initialize or keep breastfeeding.  I am motivated when a mom says "Thank you, we could not have done this without you…"
– Angela Ferguson-Parker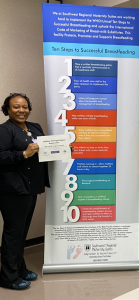 m Angela's journey as a breastfeeding advocate began after the birth of her first born in 1996. Being provided with all the education and essential support prior to delivery and afterwards by hospital staff, WIC, and Le Leche League, ensured her success and ignited her passion for breastfeeding. "When I became a Peer Counselor in Washington County in 1997, under the guidance of 2 amazing trailblazers- Kendall Cox and Cathy Carothers- I began expressing my passion for breastfeeding to others. I am forever inspired by these two amazing individuals and I know "Loving Support Makes Breastfeeding Work".
She expressed a great sense of pride in her SMRMC's Baby-Friendly journey and how they have been maintaining designation. Angela is especially happy about the hospital's recently announced 2018 MPinc score; SMRMC  had a score of 83, a tremendous increase from the total score of 45 in 2015. When they initially started the Baby Friendly journey, the hospital had no affiliated clinics, now SMRMC are affiliated with both OB/Gyn clinics in the area.  Angela shared how she works closely with both clinics to assure they have suitable educational material and adequate training, so they can provide their prenatal patients with the necessary information to support them in making well informed choices.
Congratulations Angela, thank you for your leadership and enthusiasm around BFHI and for being such an unrelenting breastfeeding advocate.