CHEER CHAMPION OF THE WEEK: AMY BROWER!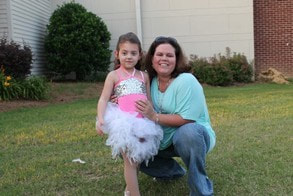 Our newest CHAMPion of the week is Amy Brower, RN! Amy Brower is the CHAMPS Team Lead at Greenwood Leflore Hospital, and since working with CHAMPS, she has setup the Pilot Breastfeeding Club at her hospital and is helping to host one of our 4-hour Clinical Competency trainings. Amy lives in Holcomb, Mississippi, and is the Director of Maternal Health at Greenwood Leflore Hospital. Amy recently received her Bachelor's Degree from Delta State University, and will also be in the Doctor of Nursing Practice program there beginning in fall of 2015.
Amy loves being part of the CHAMPS team. "I enjoy that I am part of a group whose goal is to educate both patients and healthcare workers in the most up to date evidence based practice." She also loves giving mothers "a voice to decide how they would like to experience birth and the care of their newborn."
Amy enjoys reading and spending time with her family, including her 11 year old son, Trey, and her 5 year old daughter, Bella. Amy would one day love to travel to Australia, because the country has always seemed amazing to her, and she would love to learn more about their culture.
Amy's passion in life is to do her part to "ensure that every female has an optimal birth experience." Amy feels as if so often, "the event of giving life is overlooked as less than the momentous occasion in which it should be regarded," and she loves to be there for mothers and to aid them with the care of their newborn as much as possible.
Amy believes that Greenwood Leflore's biggest accomplishment since joining CHAMPS has been implementing a more "stringent rooming-in culture" in their facility, a change from their previous mindset of "the newborn is automatically separated from their mother for a good portion of their hospital stay." As CHAMPS continues, Amy expects that "'CHAMPS' will become more common in everyone's vocabulary due to our active participation in advancing healthcare of women and newborns."
Note: This post has been transferred from CHAMPSbreastfeed.org.  There was originally 1 comment.  You can view it in this document.