CHEER CHAMPION OF THE WEEK: ALEXANDRA BEEDLE!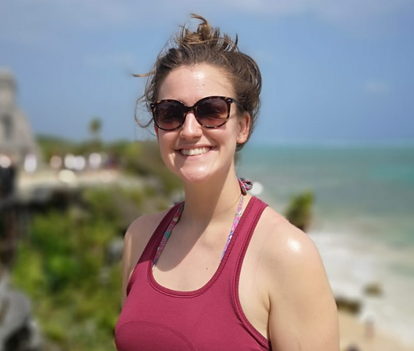 Our CHEER Champion this week is Alexandra Beedle, MSC, ANutr, and Volunteer for CHEER International Group (CHEERing). Alexandra was nominated for her dedication and tenacity in going to serve vulnerable populations in Greece, during the current global pandemic.
"I am a humanitarian and the pandemic does not deter me from my work. On the contrary, it has made me want to use my knowledge and skills to help those who are now more in need than ever. At the same time, I hoped to gain invaluable hands-on experience." – Alexandra Beedle, MSc.
Alexandra is a nutritionist with a Masters in Nutrition for Global Health from the London School of Hygiene and Tropical Medicine (LSHTM). She is first aid trained with St John's ambulance and has experience working with various national and international organizations. Recently, Alexandra was working in South Sudan with the World Food Programme (WFP) Nutrition team as Data and Information Officer. Prior to this, she worked at a number of organizations on various systematic reviews about the issue of malnutrition.
"I found out about CHEERing very randomly while on holiday in Greece in August. I couldn't sleep one night and was browsing on LinkedIn when I came across a post by Indigo Volunteers," she shared. "CHEERing was listed as an organisation, and on the lookout for a nutritionist, so, as my last contract had just ended, I sent an email offering to volunteer." Alexandra describes that being proactive and flexible have been vital to her role at CHEERing. "With the COVID-19 situation changing daily, I have been able to apply my in-depth knowledge about breastfeeding and infant feeding in emergencies to my everyday role here in the refugee camps."
Furthermore, Alexandra has previous experience working on the post-natal ward of a London hospital, where she assisted medical staff and provided support to new mothers and their families. During her time at CHEERing, she has advocated for a severely underweight premature baby to see a doctor, as she was losing weight weekly, and encouraged the mother to feed her more. She also helped to create a video to be used in a fundraising campaign, made infographics on recommended foods for babies from 6 months of age, and created social media posts to raise awareness about CHEERing's work.
"Working in the camp has definitely shown me that there is very little coordination between national and international actors within the camp, for example, it is so difficult for the refugees to receive basic healthcare. I can only hope that this situation changes in the near future," Alexandra shared. She is a London native who speaks French, Spanish and Portuguese.
​
Congratulations Alexandra, thank you for your commitment to serving vulnerable populations!
Learn more about CHEERing and support their work here.