CHEER CHAMPION OF THE WEEK: ALESHIA JONES!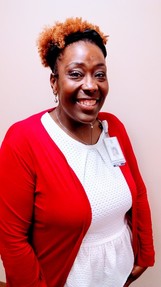 This week's CHAMPion of the Week is Aleshia Jones, MBA, BSBA, CLC, WIC District IX Breastfeeding Coordinator for the Mississippi State Department of Health (MSDH). Aleshia began her lactation career in 2008, first as a Lactation Specialist for MSDH, who quickly promoted her to District Breastfeeding Coordinator. This July 1st, MSDH will be restructuring their staff, and Aleshia will become a Regional Breastfeeding Coordinator. We appreciate Aleshia's wonderful participation at recent CHAMPS site visits at newly enrolled Singing River Hospital in Pascagoula, MS; Highland Community Hospital in Picayune, MS; Merit Health-Biloxi in Biloxi, MS; and Ocean Springs Hospital in Ocean Springs, MS; and her continued support with already enrolled Hancock Medical in Bay St. Louis, MS!
As District Breastfeeding Coordinator, Aleshia supervises a team of 6 WIC Breastfeeding Peer Counselors, performs all the administrative duties associated with running a department, and occasionally assists clients over the phone or in their homes.
Aleshia shares, "The thing I love most about my job as District Breastfeeding Coordinator is that I get to assist my staff in being the best they can be—not only as lactation support for the community, but as women as a whole. By making sure that my staff have the love and support they need, it gives them strength to pour into our clients and make sure that our clients get the services, love, and support that they need."
Aleshia is excited about more hospitals in Mississippi joining the Baby-Friendly pathway, and says it has given her WIC breastfeeding team "a fresh role" with local hospitals in their area. She says they now have the opportunity to serve as a resource on local hospitals' Baby-Friendly taskforces, to work "side-by-side" in helping these hospitals become Baby-Friendly, and to educate WIC clients about the positive changes they can anticipate at hospitals when they deliver.
As with many of our CHAMPions, Aleshia's personal experiences, although difficult, have motivated her to do breastfeeding work. Aleshia shares that her son is a twin, and that his brother passed away 16 days after she delivered them due to necrotizing enterocolitis (NEC). While Aleshia did partially breastfeed her sons, she says she did not know the benefits of exclusive breastfeeding at the time. She openly shares, "Had I been more educated about the subject and the benefits of breast milk and NEC, my outcome might have been different. So I use this as an opportunity to help other moms get it right from the beginning."
Thank you for sharing your experiences, Aleshia, and for making a difference in the lives of so many!