CHEER CHAMPION OF THE WEEK: AIRA JAE ETHERIDGE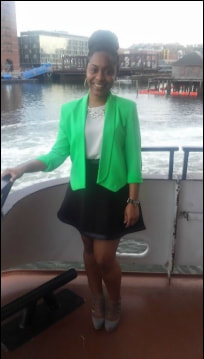 Meet Aira Jae Etheridge, this week's CHAMPion! Aira Jae recently graduated from Boston University School of Public Health with an MPH in Maternal and Child Health. During her last year as an MPH student, she worked as a Regional Coordinator for CHAMPS and has developed a range of CHAMPS materials and handouts. Aira Jae's biggest accomplishment working for CHAMPS has been "seeing [her] ideas for the reports, flyers, and pamphlets come together as finished products." She enjoyed her role in CHAMPS because it allowed her to be surrounded with "like-minded individuals who have the same goal," and she is inspired "seeing a group of diverse, educated professionals come together to accomplish the vision and goal of CHAMPS."
From Virginia herself, Aira Jae hopes that "CHAMPS will become a staple in the communities in the south and that all hospitals will work toward becoming Baby-Friendly in order to improve rates of breastfeeding initiation and duration." When she hears the saying 'It takes a village to raise a child,' it reminds her that "changing policies, stereotypes, and minds of individuals in the South is going to take a team of people to accomplish this goal." Aira Jae strongly believes that "CHAMPS is here to see these changes come about."
In her free time, Aira Jae enjoys spending time with her friends and family. She also loves to watch sports, be outdoors, and travel. When asked her ideal travel destination, she said, "This is such a loaded question. There are so many places on my bucket list that I can't being to name them all. I love to travel, see new places, learn about different cultures, and try new adventures. Last summer, I was fortunate enough to complete my practicum in Africa. Words can't describe my experience there, this is definitely a plate I would love to visit again."
Since she has achieved her goal of attaining an MPH in Maternal and Child Health, Aira Jae's next goal is to become an International Board Certified Lactation Consultant, which she believes will help her fulfill her passion in life: "to reduce and eliminate barriers women of color face when initiating and continuing to breastfeed." Aira Jae's ultimate goal in life is to have her own "non-profit organization or health center that caters to teenage girls and young adult women specifically addressing their needs related to maternal and child health.
Thank you Aira Jae Etheridge for all of your hard work, you will be missed on the CHAMPS Team! As Aira Jae is currently looking for jobs in DC, Maryland, Virginia, North Carolina, Atlanta, and New Orleans. Potential employers are encouraged to contact Anne Merewood (Anne.merewood@bmc.org), CHAMPS Project Director for a job reference! Thanks again and Congratulations on being CHAMPion of the Week Aira Jae!