CHEER CHAMPION OF THE WEEK: ABRA PATKOTAK!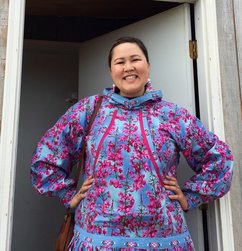 Congratulations to CHAMPion of the Week Abra Patkotak! Previously trained as a birth doula, Abra now runs Arctic Slope Native Association's (ASNA) Pre-Maternal Home in Barrow, Alaska, a residential facility for expectant mothers from the outlying, remote North Slope villages. A 5-bedroom facility, the Pre-Maternal Home opened its doors in 2013 and has served hundreds of women since then, providing them a home-away-from-home for their 2-night to 4-week stay while they await their babies' births at Samuel Simmonds Memorial Hospital in Barrow.
Abra is a live-in Residential Coordinator and Director at ASNA's Pre-Maternal Home, where she teaches classes on healthy pregnancies, nutrition, and breastfeeding, and shares the message of the importance of breastfeeding with every expectant mother that stays there. She is also a member of the North Slope Breastfeeding Coalition, and serves as a resource to the Barrow community regarding matters of breastfeeding. Abra has spoken about breastfeeding and healthy pregnancies on radio talk shows several times on KBRW, the North Slope's radio station.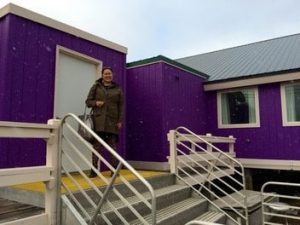 Inupiaq and white, Abra grew up in Idaho on the Nez Perce reservation and has lived in Barrow, where her father is from, for the past 4 years. Always passionate about health and nutrition, Abra became particularly interested in breastfeeding promotion after she was diagnosed with type 1 diabetes in her early 20s.
Abra shares, "Because breastfeeding is a protective measure for both baby and mom against diabetes, it only made sense to me to spread the message of health. Particularly for Alaskan Native people, diabetes is on the rise and breastfeeding retention rates are low." Abra hopes to turn this around and recently received a grant from the Thriving Women's Initiative to promote and encourage breastfeeding across the North Slope. She also created the moving digital story, "It Starts with Day One," which mentions her experience with type 1 diabetes and promotes breast milk as the first traditional food.
Abra has been collaborating with CHAMPS staff members Anne Merewood, Kirsten Krane, and Camie Goldhammer on CHAMPS' breastfeeding work in the Barrow area. She graciously hosted Anne, Kirsten, and Camie on their first visit to Barrow in September 2016, and she is excited about their continued work together. Abra has plans to launch a breastfeeding social media campaign, and in fall of 2017, the first Indigenous Peer Counselor Breastfeeding Training will be held in Barrow, facilitated by Camie.
Abra's dreams include starting a breastfeeding support group and getting breastfeeding peer counselors into Barrow and every surrounding village. She would also like to become a lactation consultant, so that she can further support mothers with breastfeeding in Barrow and across the North Slope, where she hopes breastfeeding retention rates will greatly increase.