CHEER CHAMPION OF THE WEEK: DR. RICCARDO DAVANZO!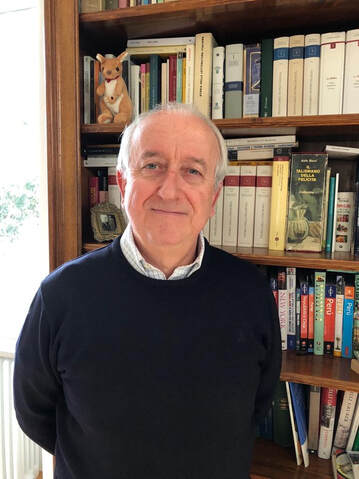 ​The recipient of the CHEER 2019 Lifetime Achievement Award is Riccardo Davanzo, MD, PhD. He is a neonatologist from Trieste in Italy, who has performed outstanding service for breastfeeding throughout his long career.
Dr. Davanzo is a well-published researcher, physician, teacher, and the Chair of the Task Force on Breastfeeding of the Italian Ministry of Health. He also currently serves as a Research Fellow at the Institute for Maternal and Child Health, IRCCS "Burlo Garofolo", in Trieste Italy. Prior to this, he was the Director of Pediatrics and Neonatology Division, Matera Hospital (South Italy) for three years and a Neonatology Consultant at Children's Hospital, Trieste, for 24 years, Most recently, he spearheaded the creation and communication of "Breastfeeding and SARS-CoV-2 Infection," a document that provides guidance on breastfeeding for the COVID-19 epidemic in Europe, and published a research paper detailing the implications and importance of maintaining breastfeeding practices during the pandemic. These guidelines were created on behalf of the Italian Society of Neonatology (SIN) and endorsed by the Union of European Neonatal and Perinatal Societies (UENPS).
"My greatest achievement is the scientific dignity that breastfeeding and its promotion have gained within the Italian and global health and academic communities, during the last decades. While pursuing this goal, my main strategies have been academic involvement, empathetic respect of different positions toward breastfeeding, and science based advocacy." – Riccardo Davanzo, MD, PHD
Dr. Davanzo comes from a family of Italian refugees from Istria during World War II. He entered Medicine in pursuit of a challenging career, but from the very beginning he developed an increasing passion to care for neonates and children. He focused on the theoretical basis of breastfeeding after completing a degree thesis on the factors influencing breastfeeding.
Since he began his medical career in 1980, Dr. Davanzo has contributed to the field of maternal and child health through practice, research, and education. His main areas of research are breastfeeding, skin to skin, use of appropriate technology in neonatal care, neonatal infections, and prevention of sudden unexpected postnatal collapse (SUPC) in newborns.
Furthermore, Dr. Davanzo developed a method of meta-analysis for the evaluation of lactation risk of various drug groups. In the past, he has focused on reducing technical barriers around breastfeeding in the hospital, assessing the safety of medications and contrast media agent for breastfeeding mothers, alleviating controversies in breastfeeding, and the epidemiology of breastfeeding the NICUs, among others. He was also a professor and taught courses in breastfeeding and trained medical students, and pediatric, obstetrics and gynecology residents at the University of Trieste for 27 years.
In addition to his vast experience with maternal and child health in Italy, Dr. Davanzo served as a consulting physician at Central Hospital Maputo, Mozambique from 1987-1990, and then took a position as the Director of Pediatric Health Services at Mavalane Hospital and Health Area, Maputo until 1991. He also taught a course on Neonatology at the University of Maputo, Mozambique during this period, and contributed to the National Guidelines on Kangaroo Care (KMC) of Mozambique.
Throughout his career, Dr. Davanzo has collaborated with multilateral, international, and domestic agencies to promote breastfeeding, kangaroo mother care, and other essential newborn care. He has contributed to the preparation of WHO documents on these subjects and served as a consultant on other maternal and child related issues.
​
Dr. Davanzo is an active member of the Italian Society of Neonatology, International Society for Research in Human Milk and Lactation (ISRHML) and coordinator of the Italian Network of Trainers on Breastfeeding (RIFAM). He has been married for 35 years and has 2 sons. He is an exceptional physician scientist, a passionate educator, and an unrelenting breastfeeding advocate.