CHEER CHAMPION OF THE WEEK: A TRIBUTE TO DR. ALFIO RAUSA, 1936-2018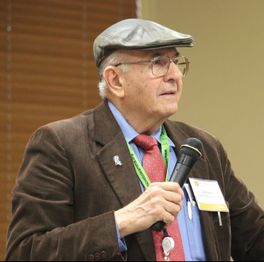 Dr. Alfio Rausa, M.D., a public health hero who worked valiantly for half a century to improve the health of Mississippians, passed away at home after several months of illness on January 3, 2018. Dr. Rausa leaves a legacy of dedication to countless public health and community efforts, including his work at the Mississippi State Department of Health (MSDH); his work as a family medicine physician; his contributions to the Golden Age Nursing Home; his founding of Life Help, a regional mental health and retardation center; his founding of a youth soccer league; his work as Chairman of the Fannie Lou Hamer Cancer Foundation; and his contributions to many other projects and boards. He is the recipient of many awards and honors, including the 2007 Greenwood Commonwealth Community Service Award and the 1992 Felix J. Underwood Award for public health service.
Dr. Rausa originally came to Greenwood as a Lieutenant Commander with the United States Public Health Service Commissioned Corps, a position he held from 1966-1970. Raised in the Bronx, Dr. Rausa's intention was to stay in Mississippi for a year, but his plans changed when he saw all the work to be done.
"I was having too much fun," he said (as reported in The Greenwood Commonwealth on January 3, 2018). "My idea was to try to fix the problems."
In 1970, Dr. Rausa accepted a position as Regional Public Health Officer in Greenwood with MSDH, and in 1980, he was promoted to District Health Officer. At first he was over Public Health District III and then over District I as well, for a total of 18 counties, including some of the poorest in the state. He held this position until last summer when he retired, partly because of the consolidation of offices due to state budget cuts.
As District Health Officer, one of the projects for which Dr. Rausa served as medical consultant was WIC and its breastfeeding peer counselor program. He fully supported this program, always encouraged the peer counselors, and was always willing to speak with other physicians, the media, hospitals, or at events about the benefits of breastfeeding. He emceed CHAMPS' first conference in Mississippi in 2015, "The Delta Breastfeeding Summit," and gave opening comments on the importance of breastfeeding.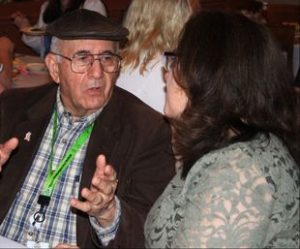 "Dr. Rausa was one of the greatest champions of breastfeeding in the state," shares Cathy Carothers, BLA, IBCLC, FILCA, CHAMPS Mississippi Liaison and Trainer. "He was the most can-do person I believe I have ever known, and it is sad that he is no longer with us. I still remember him telling his own stories of how his mother breastfed him and attributing his success to all that breast milk. He always had a smile on his face and offered such encouragement to our peer counselors. We've lost a good one!"
Cathy says she especially appreciated how, in the early days when MSDH first began the WIC breastfeeding peer counseling program, he advocated for the program and elevated the role of peer counselors with MSDH staff. At that time, Cathy was a WIC District Breastfeeding Coordinator.
"That was back in the time when it took a bit of a 'sell job' for the health departments to come on board…He loved the idea of peer counseling and offered to help smooth the way," Cathy says. .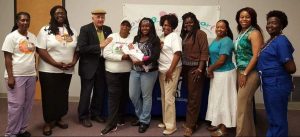 "What I loved—what we all loved—about Dr. Rausa, was that he was a huge advocate for breastfeeding families," shares Kendall Cox, BA, IBCLC, who worked with Dr. Rausa as a WIC District Breastfeeding Coordinator between 1995 and 2005. "If you asked him for help making something happen, he went above and beyond. He always showed up. He'd call and tell you about something he'd worked out to help the program that you hadn't even asked him about! And he wasn't someone who would go around bragging about all he'd accomplished. He was too busy getting it done! And he was always shining the spotlight on the work we were doing, never worrying about who got credit for what. He was a can-do guy. If something needed fixing, he'd fix it, even if it meant pulling on some overalls between patients and getting underneath a sink with a wrench to fix a leak."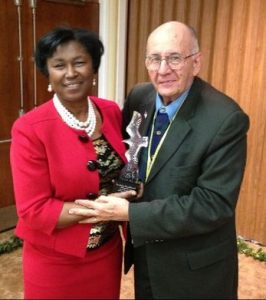 ​Freddie White-Johnson,­ ­­­­­­­MPPA, President and Founder of the Fannie Lou Hamer Cancer Foundation, where Dr. Rausa served as Chairman until his death, also has fond memories of Dr. Rausa. She knew him since she was 29 years old when she worked for him on a project called Partners for Improved Nutrition and Health and then at MSDH. She shared with CHAMPS the touching story of how, when she prematurely delivered her son weighing only 2 pounds 8 ounces, Dr. Rausa was the reason she breastfed. He explained to her that her baby needed breast milk and told her about pumping and storing her milk. Then, he called and checked on her and her baby every day.
Freddie says, "Dr. Rausa was the most caring person I have ever met and he showed he cared. He gave his all in all and left a light so bright and shining. My favorite saying of his was, 'If a problem is in the community then the solution is in the community.' He is going to be a great loss to public health especially in the Delta."
May we all strive to follow Dr. Rausa's example and brighten the world with the work we do! Please share your thoughts and memories of Dr. Rausa in the comment field below.